Fish are animals found in the fishing lake. They producefish fillets.
They are unlocked at level 27 when players can repair the fishing boat ang go to the lake.
Information
Level
Level 27
Production time
Instant or 20 h or 21 h
(fishing spot dependent)
Produces
Fish Fillets
Housed in
Fishing lake
Catching fish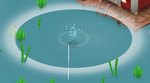 Fish can be caught using lures crafted on the Lure Workbench and fishing nets and mystery nets made in the Net Maker.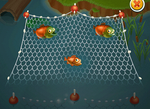 Players can catch all different species of fish when fishing with lures but only three when fishing with nets (i.e. species which can otherwise be caught with red lures).
Catching a fish with a lure is instantaneous. Catching a fish with a net takes 20 or 21 hours.
Six very unique fish can only be caught during special fishing events: Carps, Giant Barbs, Lake Sturgeons, Nile Perches,Red-Tailed Catfish and Zanders
Fishing book
Fish players have already caught can be found in the fishing book, which opens by tapping on the fishing hut.
Fish species
There are dozens of different fish species in the game. Each can be caught with one or two kinds of lures. While most fish can be caught in any spot, some do not and all fish have a favorite spot.
Fish
Red lure
Green lure
Blue lure
Purple lure
Golden lure
Circle size
Spot
Experience
Book page

Arctic Charr
x
x
x
Medium
Any
18
11

Asp
x
x
x
Medium
Any
18
7

Bitterling
x
x
x
x
Small
Spot 6
16
6

Black Bullhead
x
x
x
Small
Spot 9
14
20

Bluegill
x
x
x
Medium
Any
16
5

Bluespotted Sunfish
x
x
x
Medium
Any
14
6

Brook Trout
x
x
x
Small
Spot 8
10
14

Carp
x
x
x
Medium
Small
★★★
Any
14
18

Coho Salmon
x
x
x
Small
Spot 2
12
3

Copper Redhorse
x
x
x
x
Large
Any
4
2

Fallfish
x
x
x
x
Medium
Any
12
4

Giant Barb
x
x
x
Medium
Small
★★★
Any
14
17

Golden Trout
x
x
x
x
Small
Spot 3
20
13

Goldfish
x
x
x
x
Small
Spot 11
20
21

Grass Carp
x
x
x
Small
Spot 2
12
14

Greater Redhorse
x
x
x
Small
Any
18
12

Green Sunfish
x
x
x
Large
Any
14
15

Huchen
x
x
x
x
Large
Any
4
8

Lake Sturgeon
x
x
x
Medium
Small
★★★
Any
14
18

Lake Whitefish
x
x
x
Small
Spot 10
10
22

Largemouth Bass
x
x
x
x
Large
Any
8
13

Longear Sunfish
x
x
x
x
Medium
Any
16
16

Nile Perch
x
x
x
Medium
Small
★★★
Any
14
19

Northern Pike
x
x
x
Large
Any
14
9

Northern Studfish
x
x
x
Medium
Any
10
15

Perch
x
x
x
Small
Spot 12
10
23

Quillback
x
x
x
Small
Spot 12
14
22

Rainbow Smelt
x
x
x
x
Small
Spot 3
12
9

Rainbowfish
x
x
x
Medium
Any
12
5

Red-Tailed Catfish
x
x
x
Medium
Small
★★★
Spot 9
14
19

Roach
x
x
x
x
Large
Any
8
2

Rudd
x
x
x
Small
Any
14
11

Salmon
x
x
x
Small
Spot 8
14
4

Sauger
x
x
x
Medium
Any
14
10

Shadow Bass
x
x
x
Large
Any
12
8

Sockeye Salmon
x
x
x
x
Large
Any
4
21

Speckled Dace
x
x
x
x
Small
Spot 6
20
7

Spotted Sunfish
x
x
x
Medium
Any
12
10

Striped Bass
x
x
x
x
Medium
Any
12
16

White Catfish
x
x
x
x
Small
Spot 9
12
20

Yellow Bass
x
x
x
Small
Any
16
12

Yellow Perch
x
x
x
Large
Any
14
3

Zander
x
x
x
Medium
Small
★★★
Any
14
17