Fishing spots are the zones where the player can fish, catch lobsters, and catch ducks. Each zone is delimited by vegetation or rocks.
Locked and unlocked spots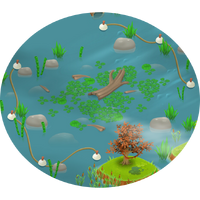 When players unlock the fishing feature they can only fish in two spots. Unlocking the other spots requires an equal number of land deeds, marker stakes, and mallets. See the table below for the exact number needed for each spot.
In unlocked spots, fish are seen swimming in the water and jumping. Locked spots are surrounded by nets and fog can be masking them. When players unlock a spot, the surrounding net is lifted and the fog recedes.
Animals per spot and cooldown time
When fishing with lures, players can catch one fish per spot; with fishing nets, they catch three fish; with mystery netsthey catch up to three fish or no fish; with lobster traps, they catch one lobster; with duck traps they catch one duck.
Fishing with lures causes spots to become unavailable for two to four hours as a seagull appears in the spot and prevents any further fishing. See the table below for the exact cooldown time applied to each spot.
Map of fishing spots
The map shows all the fishing spots available.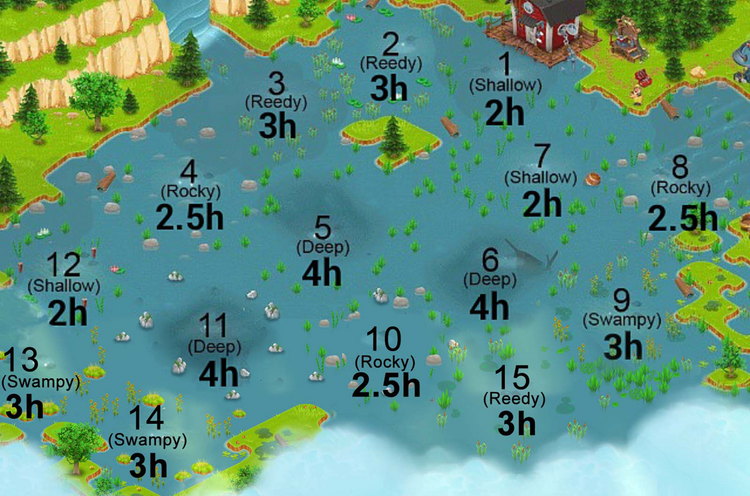 Table of fishing spots
This table lists the number of expansion supplies needed for each area, as well as its cooldown time.
| N° | Name of fishing area/spot | Cooldown time | Expansion supplies needed |
| --- | --- | --- | --- |
| 1 | Shallow water fishing spot | 2 h | Unlocked already |
| 2 | Reed fishing area | 3 h | Unlocked already |
| 3 | Reed fishing area | 3 h | 8 of each |
| 4 | Rocky fishing area | 2 h 30 min | 14 of each |
| 5 | Deep water fishing spot | 4 h | 18 of each |
| 6 | Deep water fishing spot | 4 h | 16 of each |
| 7 | Shallow water fishing spot | 2 h | 4 of each |
| 8 | Rocky fishing area | 2 h 30 min | 12 of each |
| 9 | Swampy fishing area | 3 h | 22 of each |
| 10 | Rocky fishing area | 2 h 30 min | 26 of each |
| 11 | Deep water fishing spot | 4 h | 20 of each |
| 12 | Shallow water fishing spot | 2 h | 24 of each |