A neighborhood is a group of 1 to 30 players. Players can create or join a neighborhood by repairing the neighborhood house. The house unlocks at level 18, and requires 2,500coins and 8 hours to be repaired. Joining a neighborhood is free. Creating a neighborhood costs 500 coins.
What can neighborhood members do?
Players within a neighborhood can:
Talk to other members through the in-game chat panel.
Visit other members' farms quickly through the neighborhood tab of the friends menu.
See Help signs from other members (both in the neighbors tab and via notifications in the chat panel).
Trade some items.
Compete in derbies. The neighborhood house displays the flag of the league the neighborhood is currently in.
Pick up passengers from members' towns with the personal train.
Searching for a neighborhood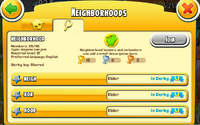 Players can search for a neighborhood by tapping on the house and going to the search tab. They can search for neighborhoods by name or browse the list of existing neighborhoods.
When searching for a neighborhood players can see its name, type, emblem, and number of members. Icons are displayed if the player has friends in a neighborhood, if the average level of a neighborhood matches the player's, and if its preferred chat language is the same as the player's.
Players can also click on a neighborhood name to see its member list, whether they are in a derby and the trophies they have won.
It is not possible to be part of several neighborhoods at the same time.
Creating a neighborhood
Players can also create their own neighborhood as long as they are not already part of one. To do so they need to pick a name, an emblem, and some settings. Creating the neighborhood will cost 500 coins.
Neighborhood emblems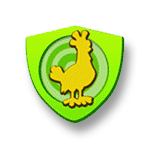 Emblems look like escutcheons. They have:
a shape (round, square, shield or starburst)
a symbol (representing various elements of the game)
a background pattern (whirlpool, stripes, check or no pattern)
colors for the symbol and the shape (yellow, green, blue, purple, pink or red)
When a player joins a neighborhood its emblem gets added to the neighborhood building.
Neighborhood settings
Owners can set the neighborhood's preferred chat language, type and minimum required level, and enable or disable the derby task log.
There are three neighborhood types:
Open neighborhoods: anyone can join them.
Locked neighborhoods: players must send membership requests, which are then accepted or denied.
Private neighborhoods: players can only join if they have received invites.
Management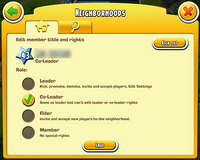 There are different positions within a neighborhood: leader, co-leaders, elders and members.
Leaders "own" and administer the neighborhoods: they can edit settings, promote or demote other members, invite or kick members out, and accept or decline membership requests. They can also trash derby tasks. There can only be one leader per neighborhood.
Co-leaders have the same abilities but may not demote or kick out the leader.
Elders can invite other players, and accept or decline requests. Elders can also trash derby tasks.
Members have no particular rights.
When a leader leaves their neighborhood their position falls to the oldest member in hierarchical order. If they were the only member, the neighborhood is deleted.
Neighborhood members can report other members in the chat tab. If at least three different members report the same player the latter is automatically banned from the chat for 24 hours.
Trading
Players can request items from their neighbors and view their neighbors' requests by tapping neighborhood mailbox. This opens the request board.
Players can make one request at a time and can ask for a maximum of:
10 units of a crop
5 units of a product
3 units of a supply item (land-clearing and mining ones only)
Requesting an item sends a notification to the neighborhood chat panel, and make a letter appear in neighbors' mailboxes.
Requested items can be picked up from the patio located next to the mailbox. Players cannot request a new item if they have not picked up all donated items first.
Players can request items every 8 hours, and players can donate 20 items a day to their neighbors. Players can trash a request and make a new one before the cooldown time is over but this costs 5 diamonds.
Players donate one item at a time so multiple players can help fulfill the same request. Donating items give players the same number of experience points they earn when making the item.
A second tab in the neighborhood requests window shows statistics about the previous week's requests and donations per player.
Generosity titles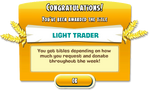 A second tab in the neighborhood requests window shows statistics about the previous week's requests and donations per player. Every Monday, donations and requests are counted, and every member is given a weekly title.
Most generous: donated 140 items, requested 0.
Philanthropist: donates 70+ items but less than 140, requested 0.
Super trader: donated 140 items, requested less than 60.
Well rounded: donated 100 items and requested 100.
Top of the crop: requested 210 items.
Lucky trader: donated 88 items, requested 88.
By the numbers: donated 123 items, requested 45.
Run of the mill: donated and requested 100+ items (in total).
Light trader: donated and requested less than 100 items (in total).
More than one player can have the same title during a week.